Star Wars Contest Results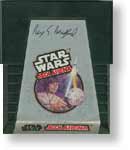 We're proud to announce the results of the Star Wars Autographed Cartridge Contest! The winner of the contest is Russ Perry Jr. for submitting a wide variety of high-quality, unique images. Russ has been an avid Atari fan for many years, as evidenced by correspondence he made with Atari and Answer Software as far back as 1982. Russ also provided us with scans of t-shirts offered by the Atari Club as well as images of rare brochures and advertisements for products that never saw the light of day. We have included all of his submissions below so you can view them. Ultimately these images will be used to create new Archives sections for AtariAge. For instance, we'll be creating a T-shirts page, a Correspondence page, and so forth. We asked Russ how he got started as a collector and here's what he had to say,
"In all honesty, I've always been an Atari fan and collector. I'm not one of those guys who got rid of all his stuff when he outgrew it and is now trying to recapture his youth. Rather, everything I ever got, I kept. And of course I wasn't content to just play the few games I had -- I wrote to all the companies to ask what they had. I read all the magazines that I could. And I kept all of it. It was slow at first, but accelerated once I got an allowance, and more so when the crash hit and caused a lot of cheap games to become available. My interests expanded well beyond Atari, but it's always been a soft spot in my heart. I love Atari. My first videogame ever was Atari Breakout. My first home experience was with Atari Pong. My first system was the Atari VCS.
My collection isn't the biggest, or the best -- I've got boxes that I cut down to fit in my closet, and I've still got many games with cruddy labels just because that's how I found them -- but I'm happy with the sheer amount of it. I kept my game lists for years, and have talked with a bunch of people who used to work for Atari and other 2600 game manufacturers. It's always interesting.
I'm also happy to have done a couple things for the hobby -- helping put together the Stella Gets A New Brain CD and helping Tim start the 2600 Connection, which I've since taken over.
We wish to thank everyone who took the time to submit entries for this contest! We have saved all the submissions and plan to use the images on AtariAge as we have time to process the images and add them to the appropriate areas of the site. As we use these images, we'll give appropriate credit to the people who submitted them. We're presently working on ideas for a new contest and will make an announcement in upcoming weeks about it. The original Star Wars Contest details can be found here.
Without further ado, here are the winning images (click on any image for a larger view):
Correspondence
Answer Software:
Atari:
T-Shirts
Atari:
Third-Party:
Brochures & Advertisements
| | | |
| --- | --- | --- |
| | | |
| | | |
| | | |
Video Fitness System