Jagfest 2K2 Report
Written by Tim Wilson
Photographs by Gregory D. George
As an Atari fan, nothing beats hanging out with other Atari fans, playing games, and having a grand ol' time with it all. I was able to experience this sense of "Atarian nirvana" at JagFest 2002, held in St. Louis, Missouri on July 12th and 13th.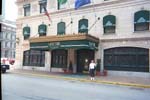 I left for St. Louis, along with my longtime friend James Garvin of >OMC Games, on Thursday morning. The 14 hour drive was filled with anticipation of what was to come. I had organized JagFest 2000, so I was familiar with JagFest, but wasn't too sure of what to expect from this year's event. This was going to be the first two day JagFest in its 6 year history, as well as the first one to be located in the central US.
We made the trek in about 14 hours, including numerous stops, finally arriving in St. Louis around 11 p.m., and drove around the downtown area searching for the hotel. Once we finally found it (which was no easy task), we stepped inside and saw the JagFest room immediately off the main lobby. We quickly stepped inside the room and saw Greg, Dan, and J.T. setting up. We introduced ourselves, as none of us had met each other in person before, and started unloading our stuff from the car. We all stayed up pretty late that night, trying to ensure that everything would be ready come the following morning.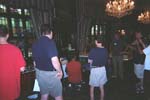 Friday morning came upon us, and we all became a little nervous as to how everything would turn out. We did some last minute preparations shortly before we opened the doors, just to make sure everything would go without a hitch. When we opened the doors at 10 a.m., a couple of people were already there, waiting to get in. Slowly, but surely, more people started trickling in that day, including three guys who flew in all the way from Japan (they also attended last year's JagFest).
Friday was fairly slow as far as organized events go. However, I attended the Jaguar Game Development seminar hosted by James Garvin of OMC Games. This was definitely one of the highlights of the show, although only a couple of people attended. James walked us through the basics of the Jaguar's architecture, going over each processor one by one and explaining how they all worked together. This seminar alone was definitely a great way to spend an hour of the day, and was more than worth the price of admission.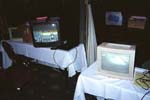 Although Friday was light on organized events, there was still plenty to do. There were several Jaguar systems up and running, allowing us to play several of the rare Jaguar games, including BattleSphere. James had both Native and Dark Guardian on display at his booth, each playing music while gameplay was in progress. Native still looks a little rough around the edges, as James still had some work to do, but it was amazing just seeing the game run with music. The number picked out for the first level was a great selection, I might add. Dark Guardian is still pretty light on features, but did allow you to control a ship around a large playfield, complete with "mother ships" in the background. This game is definitely looking good, and many of us were quite impressed with what James had done so far.
Across the room from the OMC display sat my Dreamcast, showing off Shenmue II for a little bit. Greg eventually brought over some discs he had burned of a few homebrew games, along with several emulators. It was interesting to see quite a few Atari and Nintendo games playing on a Sega system! There was also a GameCube set up near the middle of the room, showing off several of the most recent releases, including Eternal Darkness and Resident Evil. It was definitely nice having a variety of both games and systems to play, showing off the evolution of both hardware and software within the video game industry.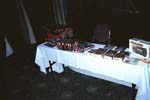 Several vendors were present at the show. Trade 'N Games and Slackers, local video game dealers, had big displays across the room, showing a wide variety of wares for those who had extra cash to spend. Songbird Productions also had a booth set up, displaying many different Jaguar and Lynx items for sale, including Protector SE and Phase Zero. Trade 'N Games had a vast assortment of games and systems for sale, including a complete boxed 4 port 5200, which caught my eye on more than one occasion. They also win the prize for originality, distributing "business carts" that were common 2600 games with the original labels replaced with a homemade label listing the vendor's name and address. I found out later that the one I received was actually Pac-Man (sorry guys, no Quadruns in this lot!). Slackers also had an interesting booth, mostly selling Jaguar games along with other collectibles like t-shirts and such. There was no shortage of ways to spend money.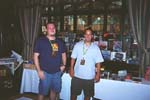 Another big attraction for this year's JagFest was the video game museum. Almost every system Atari ever made, both computer and video game, was on display. The museum wasn't just limited to Atari, though. Many other classic game systems were on display, as well as rare items that I personally had never seen or even heard of before. Among the more unique items was a Xenox II system, an NES compatible that is shaped almost exactly like a Jaguar. Also among interest was a book brought by the Japanese visitors, which details Atari's history and lists every system that Atari ever produced. As it was in Japanese, I was unable to read it, but fortunately James knows a little, so he was able to understand enough of it to tell us what it was all about. A few miscellaneous items were even displayed, including an old Atari Age magazine and pamphlets of Atari's products.
I was able to squeeze in a few games during the day. Greg George and I played a round of Pong, where I realized that my Pong-playing skills have passed me by. Greg beat me pretty soundly, and was sure to let me know afterwards. We also hooked up our Lynxes for a few rounds of Rampart, where he continued to make me feel like a video game newbie. Greg, the battle may be over, but the war has just begun! Wait until next year...
Friday ended about as quickly as it started. Most of us were already pretty exhausted, so we all decided to chill out that night and save up some energy for the following day. James and I set up a television in one of the second floor rooms and watched the movie "Last Man Standing" for the "movie night". Only one other person attended the movie night, as most everyone else was exhausted.
I woke up early Saturday morning and was downstairs ready to go. Saturday was the big day that would be filled with many various tournaments. I spent the first couple of hours checking which tournaments were available and signed up for several of them, including the Brutal Sports Football tournament hosted by The Atari Times, and the Soul Calibur tournament hosted by OMC Games.
I attended the Video Game Development seminar at noon, hosted again by James Garvin. James walked everyone through the basic steps of planning and developing a game from start to finish, detailing many of the problems that one would encounter during the process. This seminar was also a real treat, and gave everyone a sense of what it takes to develop a video game. There needs to be more of these from now on, and not only at future JagFests. I know there's a fairly large community of homebrew developers for all Atari systems, and much of the knowledge they could impart would be quite valuable to many of us.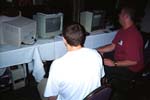 The rest of the day was mostly filled with tournaments. The first official tournament of the day was the Brutal Sports Football tournament for the Atari Jaguar. The tournament was supposed to be a "best of three" format, but since the first round took so long for everyone to complete, it became "best of one" for the rest of the tournament. My first game of the first round was a complete disaster. My opponent took full advantage of my inexperience (and my back luck) and totally dominated me. However, the second game I held my own and won by 1 point. I took the third game fairly easily, but had surprised myself with how quickly I learned the game. I ended up getting to the finals of the tournament, but lost the championship game, which means I had to settle for second place. However, I did win a copy of Joust for the Atari Lynx, which was definitely a nice prize.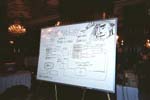 Several other tournaments went on during the day, including the Pong, Soul Calibur, and SNK Medley tournaments. I didn't get a chance to play in the Pong tournament, and faired poorly in the Soul Calibur and SNK tournaments, but still had plenty of fun competing. The winner of the SNK medley tournament won a Korean Nuon DVD player, courtesy of the Japanese guests. Actually, I should say that the runner-up won the DVD player, as one of the Japanese guests won the tournament! That was a wonderful prize, and we all appreciated their generosity.
The last tournament of the day was the Atari 8-bit Defender tournament, which was held upstairs in the video game museum. I put off playing in the tournament until the very last minute, where I ended up getting a high score of 208,550! That was more than 50,000 points better than the runner-up. I won a computer collection kit, which included a bad of wire-ties, a 3-1/2" floppy disk holder, and a surge protector for my efforts.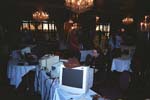 Even though the fest ended at 6 p.m., several of us managed to stay in the room for quite a while afterwards, playing and talking Atari. We took our time breaking everything down and packing up, but left a couple of systems out to play. I played a little SpaceWar 2000 against J.T. August, and later played Battlesphere Gold for a while. I also played Greg Goodwin at Pong, and naturally lost. I guess my luck had already run out for the day!
Everyone ended up retiring around 2:30 a.m., and thus officially ended JagFest 2002. James and I rested up that night and left for Austin early the next morning. Looking back at the fest, I definitely had the time of my life. It's not often that I get to hang out with other Atari fans and play games, or even just talk. Sure, I can talk to them online, but it's just not the same as actually being there in the same room. I think we can chalk this up to being yet another successful JagFest, and look forward to attending many more in the years to come!

Additional Pictures:
| | | |
| --- | --- | --- |
| | | |
| | | |
| | | |
| | | |
| | | |