AtariAge News Archive
Previous 1 ... 75 76 77 78 79 80 81 82 83 84 Next

Arcade Fever, a new book written by John Sellers, is now available at Amazon.com for $15.16. Read more at the Arcade Fever web site. From the publisher:

"Do you remember the difference between playing singles and doubles? Have you mastered the delicate art of hyperspace? Can you say "joystick" in polite conversation without blushing? If you've answered "yes" to any of these questions, then Arcade Fever is the book for you—the world's first illustrated tribute to Pac-Man, Donkey Kong, Defender, Q*bert, Zaxxon, and many, many more of the mind-blowing games you played in your youth. You want to reminisce about the coolest Atari cartridges, the silliest-named arcade oddities, and the funkiest bass riff ever used in a video game? You want interviews with early arcade heroes like Atari founder Nolan Bushnell, Robotron designer Eugene Jarvis and "Pac-Man Fever" composers Buckner + Garcia? You want to look at revealing pictures of Dragon's Lair hottie Princess Daphne? It's all in Arcade Fever, a jam-packed celebration of '70s and '80s arcade culture."

Discuss in our Forum with other visitors...




DCEmulation reports that there are a few Atari 2600 emulators in the works for the Sega Dreamcast. First off, there is the Gonzo 2600 Emulator (for lack of a proper name?). It's a port of V2600 and is playable, but by no means complete. You can read more about it, and see a screenshot here. Second, the next release of SMEG (a Sega Master System emu for Dreamcast) will include limited support for the 2600. You can read more about the SMEG/2600 emu here. If you haven't already picked up a Dreamcast, now is a great time to order one from Amazon.com for the newly reduced price of $79.95.

Discuss in our Forum with other visitors...




We've just posted the first round of pictures from last weekend's 2001 Classic Gaming Expo, held in Las Vegas. These pictures were taken on the show floor and give a good overview of the booths, the hordes of people waiting to purchase all the new titles released at CGE, and shots of innocent victims trying to avoid getting their picture taken. Our next round of pictures from CGE 2001 will be of all the wonderful items on display in the classic gaming museum.

Discuss in our Forum with other visitors...




For those fans of the classic games Miner 2049er and Bounty Bob Strikes Back, Big Five Software now has an official website! This site has tons of great information on the history of Big Five Software and all the games they produced, from with their many TRS-80 titles all the way up to Scraper Caper (which was never released). They have even created an emulator for Windows that runs the Atari 800 Miner 2049er and Bounty Bob Strikes Back games. If you're a fan of these great games, you owe it to yourself to spend some time looking at all the great information Bill Hogue and Jeff Konyu have put online.

Discuss in our Forum with other visitors...




Elevator Action, recently released by CGE Services Corp. at Classic Gaming Expo, is now available for download. Go to our Elevator Action entry to download the ROM, where you can also see some screenshots, and scans of the cartridge, box, and manual. This is an 8K Superchip game and took some tweaking, but it now works with z26. It will not work with the current release of Stella.

Discuss in our Forum with other visitors...




Classic Gaming Expo took place last weekend, and for those who missed it, you can catch some of it on TV tonight. Tonight's episode of Extended Play, a 1/2 hour show on TechTV, will broadcast footage from the show along with a report. TechTV is available on certain satellite and cable tv subscriptions, and they have a web site as well. The show will broadcast at 9:30pm EST tonight. We'll have our own CGE pictures and report in the near future.

Discuss in our Forum with other visitors...




Another copy of an unreleased Atari 2600 game has been found - Thwocker. This game was originally programmed by Charlie Heath and has been reported to be around 80% complete. Until now, no screenshots or any other media from this game have not been released, and the programmer had the only known copy. Recently, one of our readers, d8thstar, found a copy at a thrift store. To see the first published screens from the game and a picture of the label as it was found, check out our Thwocker entry. D8thstar has promised a quicktime movie of the gameplay, and he hopes to dump the ROM as well. Mr. Heath was profiled in issue #34 of 2600 Connection, where the game was described as "Joust with musical instruments". More news on this as we receive it.

Discuss in our Forum with other visitors...




Atari Gaming Headquarters has posted some more details about Combat 2 that is set to be released at CGE this weekend. There will apparently be a total of 260 copies of this game produced in this limited format, with 200 of them available at the show. The rest are reserved for press, contributors, and buyers outside North America. AGH has pictures of the production box and label as well, if you want a sneak peek before the show.

Discuss in our Forum with other visitors...




Christopher Drum has completed the official box and label artwork for the Swordquest AirWorld Project, which aims to create an original Swordquest AirWorld game for the 5200, followed later by a 2600 version. Christopher has gone to great pains to make this art as authentic as possible, such as redrawing the Swordquest logo from scratch so it could be reproduced at high resolutions, a process that took him about ten hours. Check out Christopher's site for other Atari 2600 labels he's created, such as labels for the Combat II and Kabobber 2600 prototypes, as well as some fictional titles for Akira and Transformers.

Discuss in our Forum with other visitors...




Jammed, a new game from Thomas Jentzsch, is now available from Hozer Video. This is a 2600 version of the Board Game Rush Hour by Binary Arts. "It was love on first sight. Barely 20 years old she stood in the crowd, drawing all the looks in her breathtaking yellow designer dress. From that moment you didn't care for any other, you just had eyes for her. You just knew she would soon be yours. But you still can't afford her, so you will simply take her tonight. Silently you sneak to her room and cautiously open the door. Then you see her, that sleek italian! You will brush aside everything that stands between you and her and then you will flee with her, with this dream of a ...used sports car! Move all the other cars out of the way to steal your dream car out of the lot. Docs are included with this game cart."

Discuss in our Forum with other visitors...




ClassicGaming.com has posted an interview with Leonard Tramiel, who served as Vice President of Software Development and later as Vice President of Advanced Technology at Atari from 1984 - 1996. This interview is an excerpt from a larger interview that Martin Goldberg conducted with Leonard Tramiel while researching an upcoming book on the history of Atari. Here's Leonard's response when asked about Atari's advertising policy:

Leonard: My dad's general rule was to spend 10% of the previous periods profit on advertising. There was lots of variations but that was the baseline. Lawsuits are best avoided, if not then settle if you can. This is true for almost everyone that is sued. Atari didn't sue very often, as a result they won a significant percentage of the time.

Discuss in our Forum with other visitors...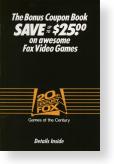 Many thanks to Mitch Orman, Peter Perpetua III, and Kevin Ondre for providing us with loads of new scans for AtariAge. We've put online one new 7800 manual (Fatal Run), two new 2600 box scans (Raft Rider and Gopher), and eight new catalogs (one for the 7800 and seven for the 2600!) And more Atari poster-style catalogs are already in the pipeline.

For all the details, have a look at our Change Log page. And as always, if you'd like to contribute to AtariAge and send us scans we're missing, please contact us! Thanks!

Discuss in our Forum with other visitors...




Version 0.5.4 of Jum52/MacOS has been released by Richard Bannister. Jum52 is an Atari 5200 emulator that has been ported from its 32-bit DOS roots to MacOS and BeOS. This version runs on Macintosh computers using MacOS 8.6 and 9.x with the Carbon library and natively on MacOS X. According to the Jum52/MacOS site, "Jum52 supports reasonable compatibility with Atari 5200 titles. At the present collision detection is a bit hit and miss (no pun intended) but otherwise the emulator is solid enough. Full sound emulation is included." You'll also want Richard Bannister's Blitter Plugin (available here).

Update: A new version of the Lynx emulator Handy/MacOS, v0.8.2, is also available.

Discuss in our Forum with other visitors...






The latest edition of MyAtari magazine is now online at www.MyAtari.net. The site has been given a facelift aimed at making navigation easier as well as several other improvements. The latest issue of MyAtari magazine features information about the Atari XL Parallel Bus Interface, an article about Atari musician Tim Conrardy, and lots of other great Atari information. Check it out!

Discuss in our Forum with other visitors...




A new version of the Atari 2600 emulator z26, 1.46, is now available. Changes to this version include improved emulation of undocumented TIA reads, correct frame rate display on fast computers, fixed scroll bar positioning in help screens, and documentation on how to z26 to work properly on motherboards with poor built in legacy sound support. You can download the latest version of z26 here. Enjoy!

Discuss in our Forum with other visitors...




We've just added a new feature to AtariAge that we're sure everyone will enjoy: Each game in our database can now have one or more Tips, Cheats and Easter Eggs associated with it! When you look at a game's Profile page, any Tips associated with that game will be listed. We've tracked down Tips for the 2600, 5200, and 7800. As we add new systems to AtariAge we'll add Tips for them as well. Certainly we didn't catch 'em all, so if you see some we missed, please drop us a line and we'll add them!

Discuss in our Forum with other visitors...




Thanks to Peter Perpetua III and Mitch Orman we now have eight new catalogs online at AtariAge. Peter supplied us with scans of seven Atari 2600 catalogs (one each from 20th Century Fox, M Network, Parker Brothers and Spectravideo, and three from Tigervision) and Mitch was kind enough to send us an Atari Advantage 7800 catalog in the mail. The Atari 2600 catalogs can be viewed here, and the Atari Advantage 7800 catalog here (it's the only 7800 catalog we're aware of!)

Update: Peter has sent us a few new catalogs since I posted this news yesterday: Two Imagic Catalogs we were missing as well as another Spectravision catalog. Thanks!

Discuss in our Forum with other visitors...






Atari/Infogrames will be sponsoring French soccer team Olympique Lyonnais, according to this press release (in French) from the team. For an English translation, use the form at Babelfish. It appears that Infogrames is going ahead with the Atari name and Fuji logo for branding. Of the three shirst that OL will be wearing, one of them features the Fuji as the most prominent image on the front. So where can I buy a replica kit??

Discuss in our Forum with other visitors...




You may recall the Cuttle Cart was put on hiatus for licensing issues, but Chad Schell has overcome that hurdle and it's now in production. "The Cuttle Cart is an Atari 2600 cartridge that can imitate other cartridges. It allows one to load ROM images (games) into an Atari 2600 using an audio interface such as a CD player. It makes a great development tool and distribution medium for new games, which can be created using freely available development tools. Finally you can play all those prototypes, homebrew games, and extremely rare titles on the real 2600 just like they're intended to be be played." Price is $100, pre-orders are being taken now.

Discuss in our Forum with other visitors...




Issue 47 of the on-line classic gaming zine is out at Tomorrow's Heroes. This issue features:

-More information on the Devastator joystick!
-Recap of the CCAG show!
-Info on the Twin Galaxies and CGE shows!
-Games to play at the flea market!
-A whole lot more!

Discuss in our Forum with other visitors...

Previous 1 ... 75 76 77 78 79 80 81 82 83 84 Next