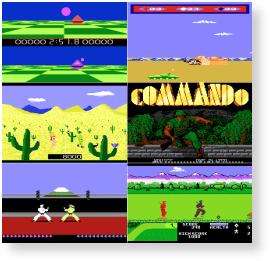 Atari 7800 screenshots were taken with MESS (Multi Emulator Super System). MESS emulates quite a few classic systems, the 7800 being one of them. To take a snapshot in MESS, you first need to create a SNAP directory inside the MESS directory. Next, run MESS as you normally would. When you'd like to take a snapshot press F12. It will then write a .png file into the SNAP directory, which you can then rename to whatever you'd like.

The native resolution of the screenshots is 320x200, which we then doubled in size to 640x480. This makes it easier to see the details in the shots. You can safely shrink these images by half without losing any detail. The images were then saved in .PNG (Portable Network Graphics) format, which results in a file size of roughly ~3K per image. In general, the first screenshot of a game is taken upon powerup before the game is started. Then we tried to take screenshots of the game in action, showing as many unique screens as possible.

If you'd like to contribute screenshots that we're missing, or you'd like to add to the screenshots for a game we already have shots for, please contact us. We're especially interested in captures of easter eggs, bugs, or unique screens that we're missing.