Welcome to the 2004 Stan's Atari Excellence Awards! It is once again my pleasure to heap praise upon those who keep the spirit of classic Atari systems alive and well in these modern times. This marks the third year of the Stan's Atari Excellence Awards and as with the past two years, there are more exceptional projects than there are awards to give out. While that sounds like a problem, it is actually a good problem to have. With so many great things going on in the modern "classic" gaming world there is something for everyone to enjoy! 2004 has been a particularly robust year for the Atari. Homebrewers have been hard at work creating fantastic new games for the 2600 and 5200, there has been a literal explosion of hacks putting new twists on old classics, eye opening prototypes have been uncovered, and fantastic new hardware has been introduced that allow you to play your old games in ways you never could before. It truly has been a banner year for the Classic Atari world, and I can think of no better way to celebrate that, than singling out those projects that I feel stand above the rest and giving their creators little plastic momentos.
This year I have four awards to give out, all of them time honored classics as well. The 2600 Homebrew of the Year Award, the 2600 Hack of the Year Award, the Player's Choice Award, and the Atari Achievement Award are all back again and in full flower! The rules for the awards have not changed since their inception, and full details can be found here. So without further ado, allow me to present to you the 2004 Stan's Atari Excellence Awards! Please click on each award to learn more about the winners!
The Stan Awards this year are extra special thanks to the always diligent work of Zach Matley. Thanks to a Playfield editor program he designed, this year's Stan Award Cartridges feature a fully playable hack of a certain "ball vs. wall" game we all love so well that features the award and winner's name as a part of the playfield. This is a significant improvement over the past two years when Award cartridges were given away with random common game ROMs inside! So I want to give big thanks to Zach Matley for his devotion and hard work to making this year's Stan Awards better than ever before!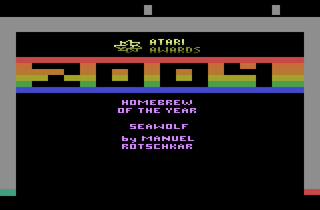 Thanks also to Thomas Jentzsch for his assistance in creating a PAL version of the Homebrew Award cartridge for Manuel Rotschkar (who resides in Germany). And once again, the exceptional talents of Dale Crum bring to you the wonderful Award Labels that grace the exterior of the Award Carts. Dale has been with me from the beginning and every year manages to outdo himself! A very big thanks to Dale Crum. As usual, the 2004 Stan Awards are brought to you without commercial interruption by Albert Yarusso and AtariAge.com, the home for all things Atari! Without the hard work of Albert none of this could be realized. Thank you.
And most of all, thank YOU, the players. You are the heart and soul of the Classic Atari community and it is your love of these games long past that keep this hobby alive and well long into the future. Thank you. See you next year!