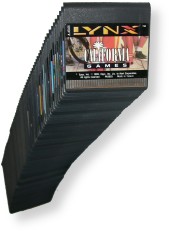 The Lynx is often overlooked by collectors, but it can be a very fun system to collect for. With a library of only about 100 games, acquiring a complete collection is entirely feasible yet still challenging. The small physical size of the Lynx and its games make it easy to maintain a large collection without running out of room. Because the Lynx never had a huge following during its lifetime, there are fewer collectors today than there are for Atari's other system, but there is still a small but loyal following.

Because it was released relatively recently (most games were sold in the early 1990's) and the collector base is still small, many Lynx games are easy to find at a decent price. However, there are a few hard to find games such as Hard Drivin', Lemmings, and Battlewheels. Then of course there are titles from Songbird Productions and Telegames - while these games are almost impossible to find from general second-hand sources, they are still readily available from the publisher, albeit for a premium price. Please keep in mind that this guide is meant to reflect the rarity of second-hand sources such as videogame resale shops, eBay, flea markets, etc. You can easily buy almost every Lynx game NIB on the Internet, if you are willing to pay a premium.

The rarity scale is a general indicator of how easy or difficult it is to come across a game. The scale starts at 1 (very easy to find) and finishes at 10 (nearly impossible to locate). For more detailed information on rarity guide values, please have a look here. If you have any comments about the listing of a title or its rarity, please post them to the Rarity Guide Message Board.