AtariAge News Archive
Previous 1 ... 4 5 6 7 8 9 10 11 12 13 14 ... 83 Next

The Atari Jaguar developers Reboot of JagWare have announced the release of Downfall, a freely available game for the Atari Jaguar game console. The game was unveiled at the AC 2011 party in France this past weekend. Downfall is inspired by the games Spike Goes Down (Vectrex) and Man Goes Down (Atari 2600), both created by Alex Herbert.

The object of Downfall is to guide your character through a never-ending chasm on a series of platforms, carefully avoiding rising above or dropping below the viewable area of the screen. Reboot have released the game free for download in ROM, BJL, and CDI format. The source code to the game is also freely available to download from the Downfall website.

Discuss in our Forum with other visitors...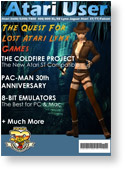 Atari User is a new online Atari magazine covering all Atari consoles and home computers systems. Atari User promises to bring you vital coverage of all the latest Atari related news including exciting new homebrew hardware modifications for your Atari systems and hot new games. Features include reviews of all the original Atari hardware as well as from third party manufacturers and extensive coverage of emulation with an ultimate goal to get you to play Atari today, and everyday. The second issue of Atari User magazine includes the following articles:
A look at the Atari Coldfire Project and their new Atari ST Compatible computer with an interview with their project coordinator
Exclusive Show Report from JAGFEST UK
Kieren Hawken begins his quest for lost Atari Lynx Games
We celebrate Pac-Man's 30th anniversary with a look at the different Atari versions of the game
Joust Head to Head: Which Atari version is the best?
Making Music on the Atari XL/XE
Basic Programming On The Atari 2600
Atari's DOS 2.5 Reviewed
Part 2 of our Atari ST: The Story series
Reviewed: Pick N' Pile, Hat Trick and Jinks
To learn more about Atari User magazine, please visit their website at AtariUser.com where you'll find details on how to purchase the magazine. Current issues are $3.95, or you can subscribe and receive 12 issues for $33. You'll also find a free preview you can download so you can sample Atari User before you buy.

Discuss in our Forum with other visitors...




The October 2010 episode of the RetroGaming RoundUp podcast is now online for your listening pleasure. The RetroGaming RoundUp is a monthly podcast that features a wide variety of classic gaming news, opinions and views from around the world. This month's podcast features a two hour interview with Ted Dabney, one of Atari's two co-founders, and is full of new information as it pertains to the birth of Atari and the Computer Space arcade game. Highlights in this month's podcast include:
Editorial
Breaking News!
Hardware Flashback
Guinness Gaming Records
Mike'd Up
Ted Dabney Interview
Atar Rewind
The Desert Dump
Top Ten Atari Arcade Games
Gaming Trivia
News And Mailbag
URLS And Emails
You can download the October 2010 podcast as well as listen to any RetroGaming Roundups you may have missed in their archive.

Discuss in our Forum with other visitors...




The Halloween Retrogaming Times Monthly issue is now out! Don't get too scared though! Here's what's in this issue:
Vectrexenstein - Berzerk
Apple II Incider - Transylvania
Dual Perspective - Ghosts 'n Goblins
Mutated Output: Lame Anniversaries & Geek Role-Playing
The Homebrew Sleuth: Star Strike
A Pixelated 21st Century!
And More!
You can read these articles and more inside the Retrogaming Times Monthly, now running 157 months in a row! You can also browse the RTM archives to catch up on past issues.

Discuss in our Forum with other visitors...




The original is back! The editors of Classic Gamer Magazine are pleased to announce the release of the magazine's latest free issue. Packed with 56 pages celebrating gaming's past, articles include:
The Pac-Man Legacy
Classic Gaming Expo 2010
SNES vs. Genesis
Angry Birds review
3D Dot Heroes Review
Arcade on the PSP
Scott Pilgrim vs. CGM
5 Games Worse Than E.T.
Classics vs. Remakes
and much more...
Classic Gamer Magazine is available as a free PDF -- perfect for viewing on your iPad -- at www.classicgamer.com, and is freely distributable under a Creative Commons license.

Discuss in our Forum with other visitors...




Legacy Engineering is now accepting pre-orders for their upcoming Atari 7800 Expansion Module. The 7800 Expansion Module sits on top of the 7800 console and expands the system's capabilities in the following ways:
Built in High Score keeping capability (compatible with approximately 20 existing titles and any HSC coded games/programs in the future)
128K of Program Available Memory
POKEY audio/interfacing IC Chip for enhanced audio/voice synthesis and I/O Interfacing capabilities
2nd Audio Processor for higher end Arcade sound effects and music
SIO (Serial I/O) Port for potential future use of Atari 8bit computer peripherals such as Disk Drives, Printers and Modems
15 PIN Port for potential future use with a detachable computer keyboard
Will come professionally boxed in original Silver styled "Atari XL" type box with extensive User Guide and Technical Data manuals
The special pre-order price is $89.99 and will go back up to $99.99 after November 30th. Shipments are expected to take place at the end of November. You can learn more by visiting the 7800 Expansion Module pre-order page, and discuss the pre-ordering in our Atari 7800 Forum.

Discuss in our Forum with other visitors...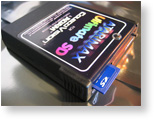 Steven Tucker of Atarimax has announced that pre-ordering is available for the Colecovision Ultimate SD cartridge. The Ultimate SD is an SRAM based Multi-Cart for the Colecovision and includes:
50 MIPS onboard CPU
Reprogrammable hardware logic
512KB of SRAM
128KB of onboard FLASH
The kit includes the following:
Atarimax Colecovision Ultimate SD Cartridge
32MB SD Card
Menu Software (Pre-loaded and ready to use on SD Card)
Firmware Upgrades and Technical Support
Lifetime Warranty
As a bonus everyone who orders the Ultimate SD Cartridge will receive digital versions of the two CollectorVision games Mario Brothers and Mr. Chin. Pre-orders are being accepted now for a run of 100 cartridges. You can view photos and pre-ordering information at Atarimax.com.

Discuss in our Forum with other visitors...




The Houston Area Arcade Group (HAAG) is holding their annual Houston Arcade Expo on October 8th and 9th at the Houston Northwest Crowne Plaza. Admission is $30 for a weekend pass or $20 for a single day, and discounts are available if you buy your tickets in advance. Admission gains you free-play access to over 200 classic and current coin-op pinball machines, video arcade games, penny arcades, and console video games. There will be tournaments, events, music and workshops to keep the young and young at heart entertained. Speakers include Dan Ferguson (Lone Star Pinball Museum) on the History of Pinball, Ken Graham (former Williams Programmer), Retro Pinball talking shop about their new pinball and many more. You can also participate in the free swap meet, repair clinics, win door prizes, enter the raffle to win an arcade game, and take advantage of the concessions and full bar.

AtariAge will be at the show, and we'll have a slew of classic gaming systems setup for play! There aren't many opportunities to enjoy large collections of classic arcade games, so if you are in the Houston area (or can get there!), you should be at this expo! For more information, please visit ArcadeCenter.com.

Discuss in our Forum with other visitors...




The September 2010 issue of Retrogaming Times Montnly is now on-line. Here is what's happening this month:
Redefining Retro One More Time
Show Report -- 2010 Big Bang
Retrogaming Smackdown
Apple II Incider - Oregon Trail
Gaming Studies With The Tomy Tutor - Traffic Jam
Dual Perspective - Dragon Warrior
Mutated Output: Triumphs & Perils Of Rush-Deadline Programming
The Homebrew Sleuth: King's Quest I VGA
A Pixelated 21st Century!
+More!
You can read these articles and more inside the Retrogaming Times Monthly, now running 156 months in a row! You can also browse the RTM archives to catch up on past issues.

Discuss in our Forum with other visitors...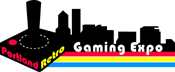 The 2010 Portland Retro Gaming Expo is slated to take place September 18th and 19th in Portland, Oregon at the Portland Crowne Plaza Hotel. The Portland Retro Gaming Expo is an annual exhibition of classic video games and systems, whose aim is to recognize the history of video game systems and their authors, manufacturers and players. You'll find a wide variety of game consoles and arcade games to play, tournaments to compete in, games to buy, sell and trade from a variety of vendors, talks with gaming celebrities, raffles, a cosplay contest, and more!

Last year's show was a great success and event organizers have made several changes to make this year's show even better! A second room has been secured, bringing the show to a total size of nearly 8,500 square feet of retro gaming goodness, an increase of 2,700 square feet. Last year's event was a single day--this year's will cover Saturday AND Sunday, giving you more time to satiate your classic gaming fix! For more information, please visit the official Portland Retro Gaming Expo site. You can also discuss the show in our Events Forum.

Discuss in our Forum with other visitors...




Version 3.2 of the popular, multi-platform Atari 2600 emulator Stella has been released. This is a significant update to Stella and includes many improvements and bug fixes. Among them are enhancements to joystick handling, the ability to assign and remap 'combo' events in emulation mode, several major improvements to the debugger, and much more. To view a detailed list of all the changes, as well as discuss the emulator with Stella's primary developer, Stephen Anthony, please visit our Emulation Forum.

Discuss in our Forum with other visitors...




The August 2010 issue of Retrogaming Times Monthly is now available. Here's what you'll find in Issue #75:
Retrogaming News
Show Report -- California Extreme 2010
Mutated Output: Few Sparks As Lights Dim At Radio Shack
The Homebrew Sleuth: Battle Kid - Fortress Of Peril
A Pixelated 21st Century!
The Gaming Post
And More!
You can read these articles and more inside the Retrogaming Times Monthly, now running 155 months in a row! You can also browse the RTM archives to catch up on past issues.

Discuss in our Forum with other visitors...




Halo, one of the decade's most renowned video game franchises, has finally found a home on the Atari 2600! In this special version of Halo, you play the role of Master Chief as he battles his way through 64 screens! Locate weapons and power-ups that will help you defeat increasingly aggressive enemies! Watch for special Shield power-ups that will give you a second chance when engaging an onslaught of Elites!

Halo 2600 was programmed by Ed Fries in just 4K of space. We've made this new game freely available for you to enjoy in your favorite emulator or on real hardware via devices such as the Harmony Cartridge! You can download the game as well as discuss it in our Atari 2600 Forum. We've made a limited number of Halo 2600 cartridges available for those attending the Classic Gaming Expo this weekend! The carts are adorned with a beautiful label designed by Mike Mika.

Do you have what it takes to tackle the four different zones and infiltrate the Covenant base? Can you reach and defeat the final boss? Humanity is counting on you!

Discuss in our Forum with other visitors...




AtariAge is attending the 2010 Classic Gaming Expo July 31st and August 1st in Las Vegas! The Classic Gaming Expo (CGE) is the world's largest event catering to classic gamers, and AtariAge will have a large booth jam-packed with retro-gaming goodness! At CGE you'll find a wide variety of systems to play, games to trade and buy, tournaments to participate in, gaming celebrities, and tons of like-minded gamers to discuss your favorite hobby with!

If you're attending the show (and we know many of you are!), here's a preview of what you can expect to see at the AtariAge booth! We'll be introducing several new games (Turbo, Duck Attack, K.O. Cruiser, and FailSafe), we'll have demos of upcoming games for the 2600, 5200, 7800 and ColecoVision, we have brand-new AtariAge T-Shirts being introduced at the show, and we will have a large assortment of homebrew games, posters, and magazines available for purchase at the show. And we're introducing Atari 2600 Cartridge Magnets at CGE! These magnets are made from Atari 2600 cartridges and we've created an assortment of 30 unique labels featuring rare and prototype Atari 2600 games.

We're also going to have a surprise homebrew release at the show and will only have a limited number of copies available! You can find detailed information about our booth at the Classic Gaming Expo right here. See you in Vegas!

Discuss in our Forum with other visitors...




Curt Vendel of Legacy Engineering is spearheading efforts to develop an Atari 7800 Expansion Module that would greatly expand the capabilities of the 7800. The module plugs into the cartridge slot atop the 7800 and adds the following features:
128K of program area RAM in 8K segments to allow larger game programs to run on the Atari 7800.
The module will free up the MARIA and improve performance.
A Pokey sound chip (used in the Atari 5200 and 8-bit computers) for enhanced audio of games that implement its use.
The Pokey chip will also be wired to an SIO port to allow for future use of Atari 8-bit SIO computer peripherals.
A DB9 Port is also added for potential keyboard input.
Built in High Score Cart capability
An onboard BIOS is being developed to control certain functions and aspects of the module
A second, more advanced audio processor is being examined to possibly be implemented into the module for even greater audio capabilities.
Games are currently in development to take advantage of these new features, and test boards are presently being built. Cost is expected to be $79-$99 USD with a professional plastic enclosure, packaging and technical documents. Expected release date will be sometime around Fall 2010 if the development schedule continues at its current pace.

The 7800 Expansion Module is a collaborative effort from the hardware and software talents of GroovyBee (Mark), OpCode (Eduardo), Legacy Engineering (Curt), along with some advice from Steve Golson formerly of GCC (original developers of the 7800). It was decided early on in the project to incorporate input from game developers to ensure that the enhancements were tailored to what 7800 developers were looking for to allow them to expand their coding projects on the system.

We'll have the first public demo of this new 7800 Expansion Module in our booth at the upcoming Classic Gaming Expo, taking place at the end of July. You can view a rendering of the 7800 Expansion Module in our Atari 7800 Forum. If you're interested in learning more about the development of this new 7800 hardware, you can read this year-long thread on the subject in our forums.

Discuss in our Forum with other visitors...




The War Continues... After the successful elimination of the terrorists and their missile silo complexes, we have heard through various sources that they have relocated, and have doubled their security! Once again you must invade enemy territory and prevent the missile launching aimed at Washington D.C. and stop the terrorists once and for all!

In FailSafe you must make your way through five different terrains in search of the Depot where you will pick up Fail-Safe clues. One letter in the code, in its correct position, appears in the center of your fuel gauge. The sixth terrain is the most dangerous of all - the missile silo is heavily guarded by all enemies, including a mine field! If you make your way past that, you will have to enter the four-digit hexadecimal code to stop the launch and save the world. Do that, and you will start over in a more difficult environment.

FailSafe is a new Atari 7800 homebrew game by Bob DeCrescenzo (aka, PacManPlus), who has a stellar track record in releasing a variety of high-quality arcade ports under his belt. FailSafe is an unofficial sequel to Atari's original game Countermeasure for the Atari 5200. In February 2010 AtariAge held a FailSafe Label Contest to solicit artwork for FailSafe's cartridge and manual. We had 50 great submissions, with the winning label submitted by AtariAge users Jah Fish and Nonner242.

We've made 50 copies of FailSafe available before this year's Classic Gaming Expo. Get yours now before they're all gone!

Discuss in our Forum with other visitors...




The July 2010 issue of Retrogaming Times Monthly is now available. In this month's issue you'll find the following features:
Abandoned But Not Forgotten: The '80s CRPG
Lunch With Tom Votava
A Super Controversy
Apple II Incider - Stellar 7
Dual Perspective - Contra
Mutated Output: Rituals Of Radio Shack's 'Lost Tribe' Live On
The Homebrew Sleuth: Yie Ar Kung-Fu
Modern Retro - Bionic Commando (360/PS3)
A Pixelated 21st Century!
Arcade Memories - Q*Bert
You can read these articles and more inside the Retrogaming Times Monthly, now running 154 months in a row! You can also browse the RTM archives to catch up on past issues.

Discuss in our Forum with other visitors...




If you grew up in arcades during the early 80's, you're probably familiar with the haunting, "Beware I Live!" emanating from Sinistar. One of Williams Electronics' later games, Sinistar is a fast-paced space-based shooter where you must mine crystals from asteroids, while avoiding enemy drones and Warriors who are building the evil Sinistar. These crystals form the basis of bombs you'll use against Sinistar, who will ruthlessly chase you through space once his drones complete assembling him.

Atari created a nearly complete version of Sinistar for their Atari 8-bit computers, but the game was never commercially released. You can read a thorough review of Sinistar over at AtariProtos.com. Thanks the efforts of Ken Van Mersbergen (Dutchman2000 in our forums), Sinistar is now available for you to enjoy. Ken has posted XEX and ATMAX versions of the game in our Atari 8-bit Forum, and an ATR version is available here.

If you have an Atari 5200, we've made some Sinistar Cartridges available, featuring beautiful, hand-painted Sinistar artwork by David Exton. The Atari 5200 version of Sinistar was ported from the 8-bit version by AtariAge member Mark Keates and is basically identical to that version.

Discuss in our Forum with other visitors...




Have you ever wanted to pause a game while playing your Atari 2600? Has the phone rang, have you had to run to the bathroom, was dinner ready, or one of many other scenarios where you had to abandon your attempt at a perfect game of Pitfall? We're proud to offer an Atari 2600 Pause Kit that you can install in your favorite Atari 2600 console! Once installed, you'll be able to pause any 2600 game, allowing you to resume your paused game right where you left it!

The Atari 2600 Pause Kit includes:
Populated Atari 2600 Pause Kit circuit board
Red, Black, Blue, Green and Orange (x2) wires
Heat shrink tubing
Toggle switch
Double-sided tape
Basic soldering skills are required to install the kit. We've provided detailed installation instructions to help you add pause capability to your favorite 2600 console. Order your Atari 2600 Pause Kit today!

Discuss in our Forum with other visitors...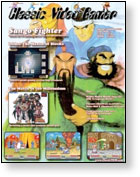 Classic Video Gamer Magazine (ClassicVGM) has announced they are now accepting pre-orders for Issue #4, due to be released shortly. In addition, ClassicVGM has just launched the long-awaited digital subscription feature. Those interested in an electronic version of Classic Video Gamer Magazine can now purchase a 1-year Digital Subscription. As a bonus, all Digital Subscriptions will receive the previous digital releases for free with their purchase.

ClassicVGM is a full-color, professionally printed magazine covering classic video games. The fourth issue features a guest appearance by Brandon Cobb of SuperFighterTeam, software and hardware reviews, a report on the 2010 TooManyGames Expo, CAGDC 2010 Coverage, and much more. Pre-orders for ClassicVGM #4 end on June 19th, 2010. You can learn more about ClassicVGM by visiting their website at www.classicvgm.com.

Discuss in our Forum with other visitors...

Previous 1 ... 4 5 6 7 8 9 10 11 12 13 14 ... 83 Next