ATARIAGE STORE ON VACATION UNTIL JULY 8TH.
The AtariAge Store is currently on vacation until July 8, 2022. While you can place orders during this time, orders placed after May 15th WILL NOT SHIP until mid-July. Orders placed on or before May 15th will ship as normal. If you have any questions, you may use our
contact form
to send us a message.
AtariAge Day 2022: LIVE on ZeroPage Homebrew Sat May 21, 2022
AtariAge Day
returns for 2022 with all the latest Atari 2600, 5200, 7800 and Jaguar games from AtariAge! This online event via
ZeroPage Homebrew
will not only have the unveiling of
the latest homebrew from AtariAge
but will also have your favorite Atari homebrew developers LIVE on the stream talking about their latest games!
Saturday, May 21st 2022
12PM PT/3PM ET/7PM GMT
https://twitch.tv/zeropagehomebrew/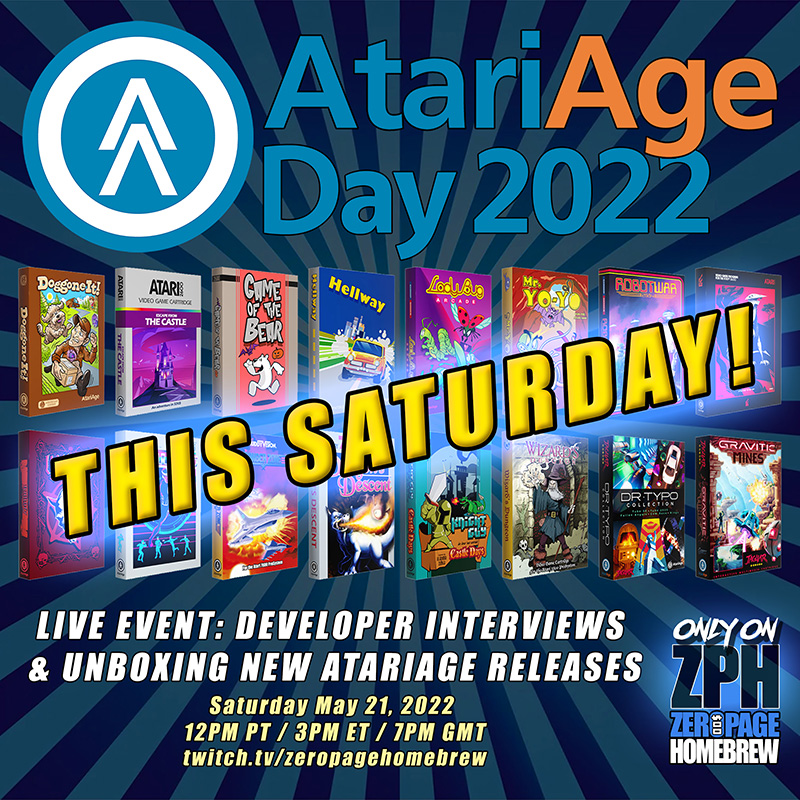 Make sure you don't miss this huge event and mark it on your calendars! All the newest games in the
AtariAge Store
will be unboxed and played during the interviews with developers such as:
Atari 2600:
Doggone It (2600) by Andrew Pauley (Armscar Coder)
Escape from the Castle (2600) by Eduardo Vilarinho
Game of the Bear (2600) by Vladimir Zuniga (vhzc)
Hellway (2600) by Octavio Pinho Bokel
LadyBug Arcade (2600) by John Champeau (johnnywc)
Mr. Yo-Yo (2600) by David Marli (DaveM)
Pitkat (2600) by Marco Johannes (MarcoJ) and Dyfed Hitchings (Jamtex)
RobotWar 2684 (2600) by John Champeau (johnnywc)
Soul of the Beast (2600) by Michael Christophersson/ΛERIF°RM (flame)
Unholy (2600) by Leonardo Santiago
Atari 5200:
Intellidiscs (5200) by Ryan Witmer
Atari 7800:
Danger Zone (7800) by Lewis Hill (Muddyfunster)
Dragon's Descent (7800) by Todd Furmanski (Revontuli)
Knight Guy in Low-Res World – Castle Days (7800) by Vladimir Zuniga (vhzc)
Wizard's Dungeon (7800) by BydoEmpire
Atari Jaguar:
Dr. Typo Collection (Jaguar) by Dr. Typo (DrTypo)
Gravitic Mines (Jaguar) by Lawrence Staveley (CyranoJ) and Ander Lex (agradeneu)
New 2600, 5200, 7800, and Jaguar Games! Order Today!
We are excited to announce the arrival of several new Atari 2600, 5200, 7800, and Jaguar to the AtariAge Store! We have a great assortment of games in this batch of releases, we're sure there's something in here for everyone!
Click on any of the images to jump straight to that game:
Here's a list of the games:
You can also browse our latest releases here. If you have any questions about the games, please send us a message!