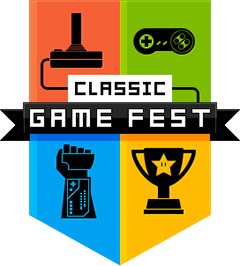 The 7th annual Classic Gaming Fest is taking place in Austin, Texas on August 16th and 17th. This year's show has been greatly expanded in size and will occupy 25,000 square feet in the Palmer Event Center. The Classic Gaming Fest caters to fans of classic gaming systems, featuring retro game tournaments, costume contests, live video game music, and a huge vendor area where you can buy and play classic video games, consoles, merchandise, and more! Admission is only $10 for the entire weekend.

At Classic Game Fest 2014, over 20 local Texas-based artists will be on hand to create and sell unique gamer-inspired arts and crafts. Retro game tournaments will be going on all weekend long at massive tournament/demo areas and projected onto the walls for the entire crowd to enjoy! Live video game music performances including VGM rock bands, chiptunes artists, hip-hop performers, and comedy acts that gamers of any age will absolutely love will rotate on stage. Costume contests for amateur, professional, and best group/mash-up will be held and led by international cosplay star MarieDoll. Also featured at CGF will be a free play arcade featuring over 20+ classic stand up arcades from the 80s and 90s along with an amazing video game museum.

AtariAge will be present at the Classic Game Fest with a large number of Atari 2600, 5200 and 7800 systems setup for play all weekend. You'll be able to try out some of the latest homebrew games, upcoming games to be released later this year, and other games currently in development. Darrell Spice, Jr., author of Medieval Mayhem and Space Rocks for the 2600, will be on hand to present a talk about creating new games for classic Atari consoles.

Please visit the Classic Gaming Fest website to learn more about the event!

Discuss online: 84 comments in Events Forum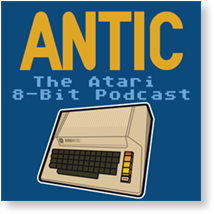 Episode 13 of ANTIC: The Atari 8-bit Podcast is now available. This latest episode features:
Interview with Fernando Herrera (First Star Software, Astro Chase, My First Alphabet)
Software of the Month: LeBreak
Hardware of the Month: MPP 1000C and 1000E modem
Website of the month: AtariLeaks
Feature Topic: Atari 8-bit file extensions
ANTIC, The Atari 8-bit Podcast focuses on Atari 8-bit computers (800, XL, XE), and is hosted by Randy Kindig, Kevin Savetz, and Brad Arnold. You can find the current and past episodes of ANTIC on iTunes, the Apple Podcast App, and at www.AtariPodcast.com. You can discuss the podcast in our Atari 8-bit Computers Forum.

Discuss online: 144 comments in Atari 8-Bit Computers Forum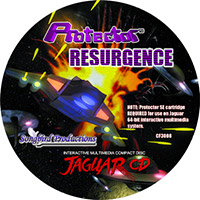 Invaders have jammed our newly deployed missile silos, meteor storms strike at will, and scouting reports indicate the deadly Vorton obliterates everything in its path. Will you be the next PROTECTOR?

Songbird Productions has announced that Protector: RESURGENCE is coming to the Atari Jaguar CD in September 2014! RESURGENCE is an expansion CD for your Protector SE cartridge, and features 24 new waves, new galaxy and ground graphics, new ship graphic, new enemies, and more. A limited 50-disc run will be made available at the Classic Gaming Expo in Las Vegas, including some graphics and audio unique to that disc, followed by the general release of the game.

You can discuss Protector: RESURGENCE with other AtariAge members and Songbird Productions in our Atari Jaguar Forum.

Discuss online: 163 comments in Atari Jaguar Forum


The noted video game historian team of Marty Goldberg and Curt Vendel, co-authors of the popular book Atari Inc. – Business is Fun, will tell the story of Atari Corporation in their upcoming book "Atari Corp. - Business Is War." In honor of the 30th anniversary of Jack Tramiel's founding of Atari Corporation, they have released the book's stunning cover in advance to video game and computer fans alike. Hand painted by artist Lukas Ketner, the cover personifies the company, its products and history.

"Our intent was to really have a cover that embodies the company at a glance," said Goldberg. "The iconic Jack Tramiel and his sons Sam, Leonard and Gary surrounded by the now legendary products they introduced to us. At the same time, the seriousness and competitive business nature Jack and his companies were known for had to be shown. Lukas captured it all perfectly and in a style that anyone who grew up with Atari should recognize!"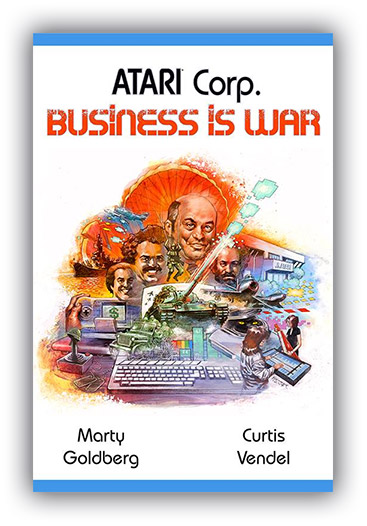 You can read the full press release in our online forum, where you can also view a larger image of the upcoming book's cover.

Discuss online: 89 comments in Gaming Publications and Websites Forum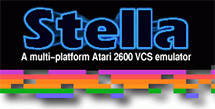 A significant new release of the Atari 2600 emulator Stella, version 4.0, has been released today. Stella is a multi-platform Atari 2600 VCS emulator released under the GNU General Public License (GPL), and versions have been released for a wide variety of operating systems. Stella allows you to enjoy the large library of Atari 2600 titles on your computer, and it's an exceptional tool for anyone creating new homebrew games for the 2600. Stella is actively maintained by Stephen Anthony, who continues to make improvements and add new features to the emulator.

Changes in this new release of Stella include:
Ported Stella to SDL2, which brings many new features. Among the largest improvements is native hardware acceleration support for Windows (Direct3D) and Linux/OSX (OpenGL). It is also now possible to port Stella to iOS and Android devices using OpenGLES. Hardware acceleration is now required, which means up-to-date drivers are needed. Software rendering is still present, but is somewhat unoptimized and unsupported going forward.
Fullscreen video modes now use the desktop resolution. Switching to fullscreen and back to windowed mode no longer rearranges icons on your desktop.
TIA TV effects are now available in all video modes, since hardware acceleration is a requirement.
Added a much more detailed view of cart extended RAM to a new debugger tab. Special thanks to SpiceWare for this implementation.
Added preliminary support for 'DASH' bankswitching scheme by A. Davie.
The AtariVox and SaveKey controllers now have the ability in the debugger to completely erase the virtual EEPROM data.
Added 'savesnap' debugger prompt command, and also associated context menu item to the debugger TIA output area. This saves the current TIA image to a PNG file.
Added 'hidecursor' commandline option, which allows to completely disable showing the mouse cursor (useful on systems that don't have a mouse).
Removed 'uipalette' option, as the original palette is no longer supported.
Updated included PNG library to latest stable version.
You can visit the Stella website to download the latest version for your platform. If you actively use Stella, making a donation will help ensure it's continued development. To view a detailed list of all the changes, as well as discuss the emulator with Stella's primary developer, please visit our Emulation Forum.

Discuss online: 38 comments in Emulation Forum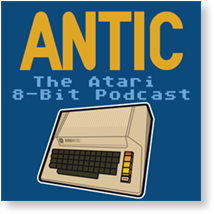 Episode 12 of The Atari 8-bit Podcast is now available. This latest episode features:
Interviews:

Fred Thorlin, former director of Atari Program Exchange
Bill Kendrick, father of Atari Party
William Culver, co-host of the Colecovisions podcast

Will Atari be a hardware giant again?
Software of the Month: Star Raiders
Hardware of the Month: MyIDEII from AtariMax
ANTIC, The Atari 8-bit Podcast focuses on Atari 8-bit computers (800, XL, XE), and is hosted by Randy Kindig, Kevin Savetz, and Brad Arnold. You can find the current and past episodes of ANTIC on iTunes, the Apple Podcast App, and at www.AtariPodcast.com. You can discuss the podcast in our Atari 8-bit Computers Forum.

Discuss online: 144 comments in Atari 8-Bit Computers Forum




The Seattle Retro Gaming Expo (SRGE) is one of two large retrogaming shows put on by alumni of the Northwest Classic Gaming Enthusiasts - the other being the massive Portland Retro Gaming Expo. Now in its fourth year, SRGE is growing and has moved its venue to the Washington State Convention Center - the same venue as PAX! While nowhere near as big as PAX (yet!) SRGE is the retro event for people in the greater Seattle area.

SRGE invites everyone from AtariAge to come hang out, share their love of videogames, and meet other like-minded individuals.

This year's event includes:
1500+ games to play at 25+ retro gaming stations in our free play room!
Play some killer indie games from developers like 17-bit, Crazy Viking Studios and more!
Check out the brand new Retron5 on a 61" DLP.
16 Player original Xbox System Link with over 50 titles to rage on!
10 player STEEL BATTALION system link!!
8 Player Mario Kart Double Dash Gamecube system link!!
A silent auction with 100% proceeds benefiting the Cystic Fibrosis Foundation
MASSIVE vendor hall with 30+ vendors!
Awesome after-hours events, such as Arcade Armageddon!
Industry veteran and AtariAge member Ed Fries will be speaking on Saturday. Ed is best known for co-founding the Microsoft Game Studios and as the programmer of Halo: 2600.

The show spans two days – June 28th and June 29th, and 2-day, 1-day, and family passes are available. Admission is $15 per day or $25 for the whole weekend! Preregister by June 16 to get in one full hour early and snag all the rare goodies!!

See you there!

Discuss online: 16 comments in Northwest Classic Games Enthusiasts (NWCGE) Forum


Are you interested in learning what has become of the millions of Atari 2600 E.T. The Extra Terrestrial cartridges buried in the New Mexico desert? What? You don't know the story of how Atari buried these and possibly other games and Atari hardware in an Alamogordo, New Mexico landfill after the famous 1983 video game crash? The Alamogordo Daily News reported in September 1983 that between 10 and 20 semi-trailers from an Atari facility in El Paso, Texas were buried at the landfill (view newspaper clippings here, here, and here). The story even appeared in The New York Times, and an Atari spokesman confirmed the report at the time. Although no specific Atari merchandise was mentioned as being dumped, many reports have (perhaps erroneously) stated that upwards of 3.5 million copies of the 2600 game E.T. The Extra Terrestrial may have found their way to the landfill. It's more likely that the Atari dump contains a wide variety of Atari game console and computer hardware, as well as unsold video game cartridges.

Fuel Entertainment has received permission from the city to excavate the site on April 26, 2014. They plan on creating a documentary film surrounding the myths, facts and exploration of this legend. Ready Player One author Ernest Cline will be on-hand for the event, and he's written up a blog post detailing his upcoming adventure. The general public has been invited to attend this dig, so if you're an Atari fan and in the area, be sure to attend!




While Atari's E.T. The Extra Terrestrial generally has is viewed unfavorably among classic gamers, in our opinion the game has received an unfair rap. You can check out AtariAge user Random Terrain's To What Degree Do You Love E.T.? page for an opposing viewpoint on the game. Another fan of the game has put together a Fixing E.T. The Extra-Terrestrial for the Atari 2600 page where you can download a version of the game that has common gripes (and a few bugs) fixed.

Also be sure to check out this long-running thread in our forums about the Atari landfill. This thread was started back in 2005 and has nearly 1,500 posts to date!

Discuss online: 1920 comments in Atari 2600 Forum


Tim Lapetino and his team are working on a book chronicling the art, design, and illustration of Atari in its heyday. Tentatively called "Art of Atari: From Pixels to Paintbrush," the book will highlight the creativity of the artists, designers, and illustrators who created some of the most iconic video game imagery ever. His team is in the process of interviewing former Atari artists and employees to get at the process behind creating the iconic look of Atari in the 80s, with a focus on the home consoles and everything surrounding them.

While nothing is finalized yet, they are in talks with Atari and different publishers about the project, planning on a fully-licensed volume that will be a beautiful art book that preserves these illustrations and images for fans and future generations. Tim and his team are huge fans, and want this book to be a great representation of how Atari helped define an industry, and also completed the overall experiences of very simple video games of the time. Tim will also be talking about the art, and some of his efforts at the Midwest Gaming Classic in Brookfield, Wisconsin, this Saturday. Marty Goldberg (Retro Rogue) will be doing a Q&A with Tim as well.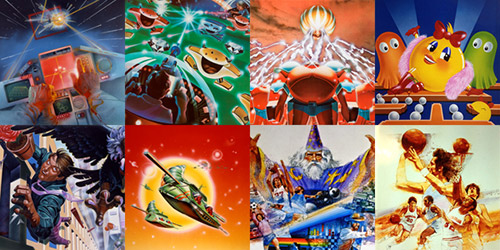 You can learn more about the book by reading some interviews Tim has done about it:

The Art of Atari: A celebration of game packaging's golden age
How Atari Box Art Turned 8-bit Games Into Virtual Wonderlands
The art of Atari – the masters who brought early games to life by filling in the blanks

To raise further funds for book-related research, Tim has put several original Atari production art negatives up for sale. These would make an incredible addition to anyone's classic gaming collection. To discuss the project with Tim and other AtariAge members, please visit our Atari 2600 Forum.

Discuss online: 61 comments in Atari 2600 Forum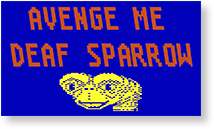 Stan, a regular member here at AtariAge for some time, recently took control of Deaf Sparrow, a site that originally specialized in extreme underground music, but has since branched out into other avenues, including media. Stan, as you all probably know, is a huge fan of the Atari 2600 and is a regular participant in the High Score Club. For one of his latest articles, he did a write-up on what he considers to be the top ten worst games for the 2600, complete with videos, links, and descriptions about each, based on his actual experiences growing up with the system and playing through its library over the years. You might be surprised what you find. Quick hint, ET is not one of his selections, and neither is Pac-Man.

Discuss online: 100 comments in Atari 2600 Forum


October 2, 2014
Contests
Mailing List